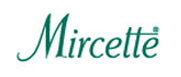 Mircette (Generic)
Mircette is a powerful combination of female hormones that helps to prevent an ovulation and pregnancy. This medicine contains ethinyl estradiol and desogestrel. Taking this medicine causes changes in cervical mucus and the uterine lining, so it gets harder for sperm to reach the uterus. It is a contraceptive drug helping to avoid pregnancy.

Generic Mircette is also marketed as Apri, Mircette, Solia, Eethinyl estradiol and desogestrel, Ortho-Cept, Emoquette, Desogen, Kariva, Reclipsen, Velivet, Viorele.

*Mircette Generic® is manufactured by Duramed Pharmaceuticals, Inc.