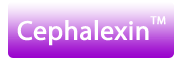 Cephalexin
Cephalexin is semisynthetic antibiotic, which belong to the largest and most diverse family of bactericidal cephalosporin (first generation). It has broad spectrum activity. It is s effective against staphylococcus, streptococcus, E. coli, salmonella, shigella, hemophilus influenza, salmonella, shigellosis. The half-life of the frug is about 50-60 minutes; the medicine is excreted mainly through the kidneys.

Generic Cephalexin also marketed as: Cefalexin, Celexin, Keflex.

*Cephalexin® is a registered trade mark of MiddleBrook Pharmaceuticals, Inc.