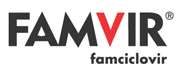 Famvir (Generic)
Famvir (Generic) is an antiviral medicine. It is useful for various infections induced by the herpes virus including herpes zoster, genital herpes, and lip sores. The active component of Generic Famvir is famciclovir, an ingredient, which turns in your body into penciclovir  to impair the ability of the herpes virus to replicate within an infected cell. In such a manner, generic Famvir helps your immune system fight off the infection and prevent recurrent outbreaks.

Often generic Famvir is sold under the following names: Famciclovirum, Famciclovir and Fancloma.

* Famivir® is manufactured by Novartis.