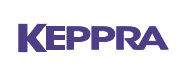 Keppra (Generic)
Generic Keppra is a drug, the active ingredient of which is levetiracetam — pyrrolidone derivative, characterized by a strong antiepileptic effect. It is proven to be effective as a single-substance therapy and as a part of combination treatment of focal epilepsy, as well as myoclonus epilepsy and some other forms of this condition in adults and children. It is able to stop partial seizures and other forms of seizures of obscure etiology.

Generic Keppra may be marketed under the following names: Levetiracetam, Keppra XR.

Keppra® is a registered trademark owned by UCB Pharmaceuticals.