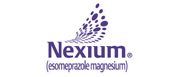 Nexium (Generic)
Nexium Generic belongs to the group of the proton pump inhibitors prescribed by the doctors to treat heartburn and gastroesophageal reflux. It may be combined with antibiotics aimed at fighting helicobacter pylori and used for other conditions, including excessive stomach acid. The agent is also prescribed to heal erosive esophagitis. Taking one pill a day will help you to get a round-the-clock relief.

At the market, generic Nexium is also sold as Esomac, Axiago, Esopral and Esomeprazole.

Nexium® is a trademark belonging to Astra-Zeneca.