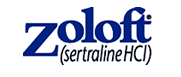 Zoloft (Generic)
Zoloft (generic) is a medication belonging to the selective serotonin reuptake inhibitors (SSRIs) to treat depressions. Although its action is not very clear, Zoloft is proven to be effective for anxiety disorders, major depressive disorder, obsessive-compulsive disorder, panic disorder and premenstrual syndrome. Generic Zoloft is a cost-efficient analog of the brand medication with the same effectiveness. Please strictly follow the prescription of your doctor for dosage and treatment plan and report any side effects you noticed.

Generic names: Eleva, Lustral, Selectra, Sertraline.

*Zoloft® is a registered trademark of Pfizer.