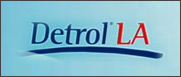 Detrol (Generic)
Generic Detrol (tolterodine) reduces contractile activity of the bladder. It suppresses involuntary urination, increases the intervals between urinations and urine output, and weakens urges to urinate. It is used to treat hyperactivity of the bladder, which manifest itself through frequent imperative urges to urinate or urinary incontinence. One tablet of Detrol allows reducing the symptoms of hyperactive bladder for 24 hours.

Generic Detrol is also sold as Tolterodine, and Detrol LA.

*Detrol is a product of Pfizer U.S. Pharmaceuticals Group.