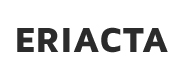 Eriacta (Generic)
Generic Eriacta (Sildenafil Citrate) is is a new generation drug that helps to treat erectile dysfunction. The main active substance is sildenafil, which triggers certain processes in the body that promote erection. An important point is that Eriact works only after sexual stimulation, that is, one should not worry about unforeseen arousal. Erection disappears naturally after an intimate affair, without any delays and other problems.

Generic Eriacta is also sold as Sildenafil Citrate and Viagra.

*Eriacta® is a product of Ranbaxy®.