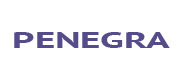 Penegra
Penegra is prescribed to treat sexual disorders in men. It is an effective drug against impotence. This drug is also known as Sildenafil, which is one of its main components. Penegra promote a stable erection when a man is sexually stimulated. It is one of the top marketed Indian medications, that is a generic version of Viagra with no less effectiveness than an original ED drug.

Penegra is also marketed as Sildenafil, Zenegra, Generic Viagra and Vigora.

*Penegra® is a registered trademark of Zydus Cadila.