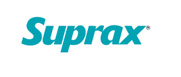 Suprax (Generic)
Suprax (Generic) is an antibiotic of cephalosporin class used for different types of bacterial infections, but it does not work for viral infections and inflammations caused by flu and cold. It is indicated for certain infection of urinary tract, otitis of bacterial origin, pharyngitis, tonsillitis, and others. It is prescribed both for adults and children starting from six months. It is prescription medicine; for proper dosage and administration, please consult your doctor.

Generic names: Suprax, and Cefixime.

*Suprax® is produced by Lupin Pharmaceuticals, Inc.