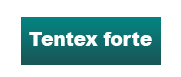 Tentex Forte
Tentex Forte is a remedy that can help a man repair his sexual health. Being a 100 % natural sexual stimulant, Tentex Forte possesses adaptogenic properties: it can relieve mental stress (the main culprit of psychological impotence), boost the production of sex hormones, and enhance the libido, which is extremely necessary for a satisfactory intercourse. Take a Tentex Forte tablet to spice up your bedroom life, regain self-esteem and make your partner utterly happy – today and ever!

Each Tentex Forte tablet contains: Winter Cherry , Velvet Bean, Crocus sativus, Anacyclus pyrethrum, and other ingredients of natural origin.

* TENTEX FORTE® is a registered trademark of Himalaya Drug Co.